International Symposium in Tokyo Announcement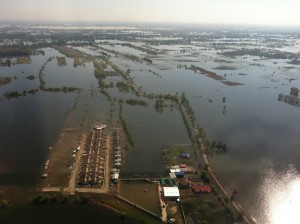 ADAP-T project will hold International Symposium in Tokyo.
International Symposium
"Front line of counter measures to climate change in Thailand ~ Will a massive flood occur again?! ~"
Date: 13:15~17:00, July 20, 2018
Venue: Elizabeth Rose Conference Hall, United Nations University, Tokyo, Japan
#Admission free, Reservation required (Seating capacity of 100)
#Please contact the following email address if you are interested in this symposium.
ADAP-T_J_jimu@hydro.iis.u-tokyo.ac.jp
#If you understand Japanese language, please access and fill out the following format.
https://goo.gl/forms/C3IUkMyLiVfnd00v2
Program :
◆ Opening Remarks
Dr. Megumi Muto, Director General, Global Environment Department, Japan International Cooperation Agency
◆ Introduction
Prof. Taikan Oki, The University of Tokyo/ Senior Vice-Rector, United Nation University
Asst. prof. Weerakaset Suanpaga, Civil Engineer, Faculty of Engineering, Kasetsart University
◆「Review of 2011 Massive Flood in the Chaophraya River Basin」
Assoc. prof. Taichi Tebakari, Toyama Prefectural University
◆Invited Speaker「Weather forecast from September to November in 2018」
Mr. Surapong Sarapa, Director of Central Weather Forecast Sub-division, Thai Meteorological Department
◆ Invited Speaker 「Flood management in Thailand」
Mr. Thada Sukhapunnaphan, Royal Irrigation Department
◆「Application of seasonal forecast for heavy rainfall and flood in Thailand」
Prof. Shinjiro Kanae, Tokyo Institute of Technology
◆「Predictability of heavy rain trigger land slide」
Assoc. prof. Tomohito Yamada, Hokkaido University
◆「Urban flood and adaptation measures in Bangkok」
Dr. Shinichiro Nakamura, Lecturer, Nagoya University
◆「Flood counter measures supported by JICA in Thailand」
Mr. Toshiro Suzuki, Senior Director, Global Environment Department, Japan International Cooperation Agency
◆「Introduction of climate change counter measures in Thailand」
Assoc. prof. Masashi Kiguchi, The University of Tokyo
◆ Closing Remarks
Dr. Kotaro Inoue, Former Principal Fellow, Japan Science and Technology Agency
Sponsor :SATREPS「Advancing Co-design of Integrated Strategies with Adaptation to Climate Change (ADAP-T)」
Cosponsor : Strategic R&D Area Project "S-14" of the Environment Research and Technology Development Fund "Strategic Research on Global Mitigation and Local Adaptation to Climate Change [MiLAi]"
Supporter: Japan International Cooperation Agency 、 Japan Science and Technology Agency, Institute of Industrial Science, The University of Tokyo
Contact: Taikan Oki laboratory, Institute of Industrial Science, The University of Tokyo
TEL:03-5452-6382
FAX:03-5452-6383
E-mail:ADAP-T_J_jimu@hydro.iis.u-tokyo.ac.jp